Jill Schmidt Public Relations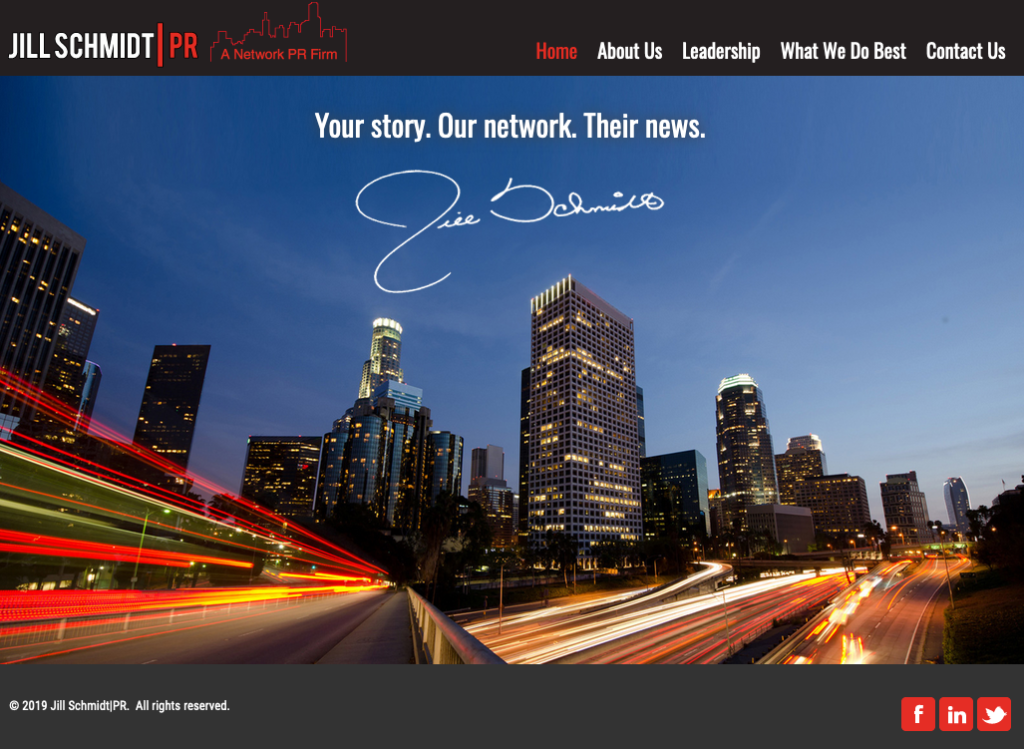 Jill Schmidt approached me to create her website and launch it by January. No problem, right? Except it was already late November and year-end holidays can play havoc with everyone's schedule. Together with my designer and developer and a very responsive client, we completed the WordPress-based website in about five weeks, meeting the client's deadline.

The Strategy
Jill Schmidt|PR is a full-service public relations firm. Together with her team they have over 50 years experience in a broad range of industries achieving national placements in major consumer, business and targeted industry media. Her firm was was built on the broad shoulders of a group of experienced public relation professionals and the site had to reflect this experience and long-term successful representation of the firm's clients.

We worked with Jill and her team to represent her national reach with a design that featured striking night skylines of New York, Los Angeles and Chicago with each image emerging from monochrome to highly saturated color. A stylized version of Jill's signature graced the home page of the eponymously named firm to emphasize the personal nature of service clients would expect to receive from this boutique PR firm.

The interior pages of the site are supported by a common template. However each page is uniquely configured with imagery that supports and complements the content of the page. A growing list of successful client engagements is further enhanced with client images or, when available, embedded YouTube videos.

Technology
To insure the greatest site portability and flexibility as well as to maintain a low development cost, the site was developed on the WordPress platform. Once launched the turnkey site was handed over to the client's in-house technology support team for ongoing maintenance and content enhancements.